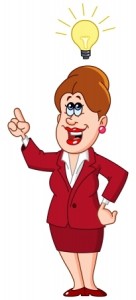 As I sat down today to write my post for the iEat Mindfully™ blog, I wasn't quite sure what I was going to write about.  But then it came to me.  Earlier today, I was told for about the 10th time this week, how bubbly and happy I am.  "Am I always like that, my client asked me?"  And I realized, yes, when I am teaching my clients about intuitive eating, I absolutely am giddy, bubbly and oh, so happy.
You see, for years when clients came to me for help in losing weight, I would create a healthy eating plan that fit into their lifestyle.  It included foods they liked, times they should eat, and even recipes.  My clients did very well…when they "followed" the meal plan.  But what happened when they didn't "follow" the meal plan?  Or when a life event, stress, or bad day at the office had them dipping into the cookie jar.  Out went that healthy meal plan.
I dreaded the sessions when I would weigh a client and the rest of the session revolved around why they only lost 1 pound, or why they gained ½ pound.  I got so burnt out….I just wasn't enjoying my work any longer.  This is when I knew I had to find another solution for my clients who struggled with chronic dieting and overweight/obesity, which I believed would in turn bring the passion back into my work.
That is when I found intuitive eating.  After spending time researching, studying, learning, and applying the principles of intuitive eating into my own life, I slowly worked it up into a program that would help transform my client's lives.  It wasn't easy at first.  Trying to get people to trust me that they should give up the "diet" or the "meal plan" wasn't easy.
I quickly realized it really was more a matter of whether they could trust themselves.  After years and years of dieting and listening and following what other people/diet programs told them to eat, when to eat and how much to eat, well I guess it's only natural that one would lose trust in themselves.
Fast forward to today…I am helping many people learn to regain that trust in themselves; to shift their mindset away from a diet mentality; to listen to their internal hunger and satiety signals.  The light bulbs that go on in their heads in our sessions are truly inspiring to me.  The "aha" moments are like no other.
So, yes, I am always bubbly, giddy and happy when I am working with my intuitive eating clients.  That's what happens when I am doing what I love to do…when I am passionate about the transformation that I help my clients achieve.  Thank you to my wonderful clients.  I absolutely love working with you!
Your turn to take action:  If you would like the light bulbs to go on for you, head on over to http://www.talkwithbonnie.com and we will schedule a time to talk.
http://dietfreeradiantme.com/wp-content/uploads/2013/10/8950365_s.jpg
450
205
Bonnie R. Giller
http://dietfreeradiantme.com/wp-content/uploads/2018/08/DFRM_340x156.jpg
Bonnie R. Giller
2013-10-02 18:55:10
2015-10-07 19:41:09
Am I Always So Bubbly and Happy?