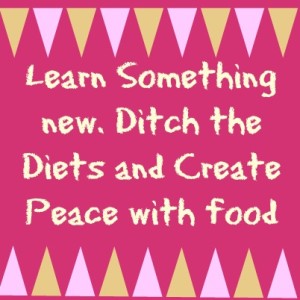 There are many facets of intuitive eating…thus the "10 principles", which are what I call your empowerment tools to help you acquire and understand your internal cues that drive your hunger and satiety.  If you are unfamiliar with the 10 Principles of Intuitive Eating, read more about them here.
One of the intuitive eating principles is Cope with Your Emotions without Using Food.  There are many emotional triggers that can lead you to emotional eating.  Identifying those triggers and finding ways to cope without turning to food is key to overcoming what might be plaguing you for a long time.
Sounds easy to say, but not so easy to do, right?  Yep, I agree.  I work very closely with my clients on this principle and it can take a long time to overcome, especially if you have been using food to cope with your life for many years.
I have recently come across a book called The Emotional Eating Rescue Plan for Smart, Busy Women.  Now, it's not to say that men don't experience emotional eating, but this book happens to focus on women who have a lot on their plate and tend to put their needs on the back burner.  Sound familiar?  Yes, I've discussed this before, the need to practice self-care, and make yourselves a priority.
The Emotional Eating Rescue Plan for Smart, Busy Women helps to define hunger in ways that you may never have thought of.  The definition of hunger as "a strong desire or craving" has the reader starting to think that hunger might be experienced for something that is not actually food.  Utilizing the tools in this book, you will begin to differentiate between hungers.  The reader is guided through a series of questions to help figure out what she is really hungry for….love, companionship, fun etc.   You are not given answers, but you are encouraged to explore and journey on the path of self-discovery.
This book is a great resource to complement your intuitive eating journey.
http://dietfreeradiantme.com/wp-content/uploads/2013/09/peace-with-food-program.jpg
402
402
Bonnie R. Giller
http://dietfreeradiantme.com/wp-content/uploads/2018/08/DFRM_340x156.jpg
Bonnie R. Giller
2013-09-18 10:10:31
2015-10-07 19:38:02
The Many Voices of Hunger