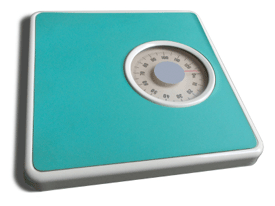 I have written before about not being a slave to the numbers, be that the size clothing you are, or more common—being a slave to the weight you see on the scale.  Now while I still don't want you to be a slave to these numbers, there is one scale you can pay attention to when you are being intuitive.  That is your hunger scale.
There are many things that can make you reach for food that do not involve actually being hungry.  You might be stressed, tired, sad or lonely.  But if you take the time to think about hunger prior to reaching for a snack or pulling through the nearest drive-thru, you might find that you are not biologically hungry, but you are experiencing emotional hunger.
Think of your hunger on a scale of zero to ten.  At zero you are beyond starving, at 10 you are sick from overeating.  Do not wait until you are completely starving to go and get something to eat.  If you do that, you'll likely find the nearest food to eat, which is not always the best option, and you will shoot yourself up the scale to a ten (sick from overeating).  Part of being healthy and in control of your body is feeding yourself before you get to a zero, and knowing when to stop when you are satisfied.  Staying in the middle of the scale throughout the day by eating at regular intervals will keep you feeling good all day.
So feel free to hop on to the habit of using this scale rather than the other one!  It's one number that will help you rather than hurt you on your journey!
Your turn to take action: Use the hunger scale this week prior to eating to discover how in tune you are to your signals!  How is it working for you?
http://dietfreeradiantme.com/wp-content/uploads/2013/08/scale2.gif
206
275
Bonnie R. Giller
http://dietfreeradiantme.com/wp-content/uploads/2018/08/DFRM_340x156.jpg
Bonnie R. Giller
2013-08-07 10:00:25
2015-10-06 17:20:44
Hunger Scale vs. the Bathroom Scale