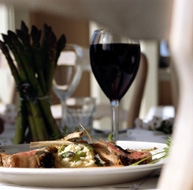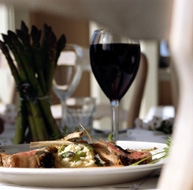 Restaurants can be one of the greatest challenges of trying to eat healthy.  New labeling requirements have made us more aware of just how unhealthy some of our favorite dishes can be.  But eating out is part of our culture and it is a fun social event to go out to eat with our friends.  It is also an opportunity to try new foods that we don't eat on a regularbasis and that should not be missed out on just because you feel like you won't be able to make healthy choices.
I often hear from my clients that they don't go out to eat because they fear they will make "bad" choices and overeat.  I tell them if you were dieting then I can understand how difficult it would be.  But I quickly remind them that they are not dieting.  Eating mindfully is about enjoying whatever foods you want, and knowing that the enjoyment can come guilt-free.  One of the best intuitive eating principles that can help you in a restaurant setting is "Respect Your Fullness."  By eating what you really want to eat, not what you think you should eat, you will enjoy your restaurant experience and be able to stop when comfortably satisfied without risk of overeating.
It's easy to get distracted when eating out.  You might be wrapped up in conversation and eat more than you expect because you were not paying attention to your food.  Here are some strategies to increase your consciousness while eating:
Be aware of how hungry you are when you sit down.  Sometimes restaurants make you wait for a long time before seating you at a table, and then you still have to wait for your food once you get there.
Never arrive overly hungry or it will be harder to identify when you had enough. Have a small snack before you leave home.
Wait to take bites between conversations so you can be aware of the food you are eating.
Pause mid-meal and ask yourself if you are still hungry.
Eating out is fun and can be included in a healthy eating lifestyle.  All food and food related activities have their place in mindful eating, and as you continue on this journey, you will see how you will enjoy food socially more than ever before, without the guilt and the uncomfortable fullness!
If you are interested in learning more strategies to help you get off the diet roller coaster, request your Free – Break Free of Dieting Strategy Session Here.
Your turn to take action:  How will you increase your consciousness while eating out?
http://dietfreeradiantme.com/wp-content/uploads/2013/02/Restaurant-Meal.jpg
190
193
Bonnie R. Giller
http://dietfreeradiantme.com/wp-content/uploads/2018/08/DFRM_340x156.jpg
Bonnie R. Giller
2013-04-16 09:00:20
2015-08-26 14:26:46
Eating Out Mindfully