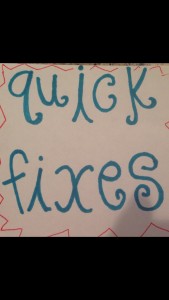 We are a society that is based on quick fixes.  Our lives and the technology that supports them are fast-paced, and so we expect our weight loss to be the same.  It is this principle that a majority of the weight loss industry is based on.  You are always hearing about the new food to eat that will speed your metabolism, the new supplement that will burn fat faster, or the newest fitness craze that burns more calories in 30 minutes than running does in an hour!  It is easy to get wrapped up in the advertising and buy into the marketing schemes of the people selling these products.
The truth is, weight loss that is brought to you by a quick fix or "diet miracle" is typically not the kind of weight loss that will last forever.  These supplements, workouts and diets come with a set of instructions.  They claim that if you follow the instructions, you will succeed.  But when the product runs out, or the diet becomes too cumbersome to continue, chances are you will gain back whatever weight you may have lost and then some, especially if the diet or supplement revolves around a very low calorie intake.
When weight loss is successful, it is because you have made your eating and exercise a part of a healthy lifestyle, not something you are following because you were told.  The decision to eat certain foods and exercise resides within you.  This is different than a product or a diet being what controls how you eat.  By honoring your hunger and respecting your fullness, you will know yourself better and know that you are above the fad diets and miracle products.
I know that it can be unnerving and hard to be patient when you want to lose weight.  It's much more tempting to lose a lot of weight quickly by following a diet.  The main thing to remember though is that your goal of weight loss should be to get healthy for life.  Not only is it unhealthy to have your weight yo-yo, but it is emotionally taxing to feel you have succeeded only to fail again.  Eating mindfully will put you on a track to permanent, consistent weight loss, with constant emotional uplift at the thought that you are in control, succeeding on the journey to becoming a healthy person overall.
What do you feel will be the greatest reward from a life without dieting and miracle products?
I am here to help you.  If you would like further support, click here for a chance to speak with me!
Bonnie R. Giller
http://dietfreeradiantme.com/wp-content/uploads/2018/08/DFRM_340x156.jpg
Bonnie R. Giller
2013-02-19 12:11:34
2015-08-26 14:26:47
Still Waiting for the Next "Great Diet Miracle"?